Make any image interactive with MapsAlive
MapsAlive is interactive map software that lets you make any image interactive by uploading the image and adding hotspots and content to a MapsAlive tour. You do these things using the Tour Builder. You can preview your tour at any time and see it working. When you are ready for others to use your tour you publish it to make it available on the web.
Step-by-step Instructions
A new program always takes some getting used to, but MapsAlive's built-in step-by-step instructions for new users will help you get started right away.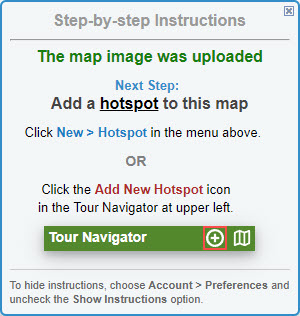 When you create your first interactive map (or your second, or third…) you can follow the step-by-step instructions to upload a map image, add hotspots, and preview your tour. We even provide sample maps and photos you can use. You'll have a working interactive map in minutes!
Preview and Publish
MapsAlive has a unique feature called Tour Preview. With Tour Preview, creating interactive maps is not only fast and easy, it's fun. You can make and try changes so quickly that you'll find yourself experimenting to discover new ways to make your interactive maps better and better.
Tour Preview lets you privately see and try using your interactive map exactly as it will be when published. You can preview your tour from anywhere in the Tour Builder with just one click and go back to editing with another click. There's no faster or easier way to create and fine-tune an interactive map.
The screenshot below shows the Tour Preview screen. The blue circle on the map is the selected marker. Its content is displayed on the right. In Tour Preview the map is fully functional. For example, you could mouse over the other circle markers and see their content.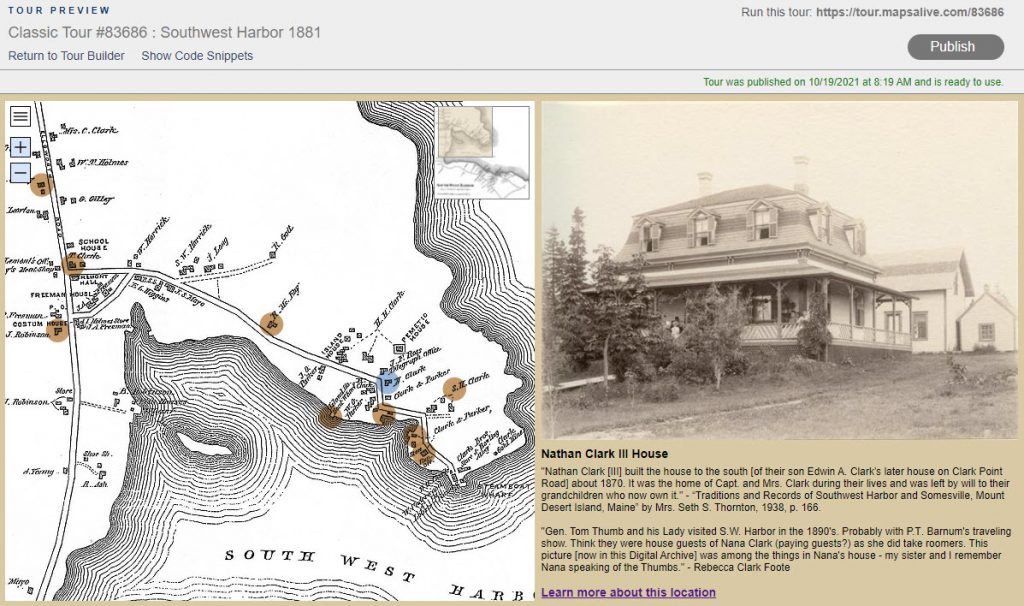 Publish to the Internet in Seconds
When you are ready for other people to see your work, one more click publishes your interactive map to the internet in seconds. You can go back to the Tour Builder and make as many changes as you like and publish again.
Duplicate a Tour

You can quickly duplicate a tour if you want to create a new tour with the same tour layout and options, and even duplicate the hotspots and content. The duplicate feature makes it easy to set up a template tour that preserves all your settings for new tours.
Tour Builder Quick Help
Throughout the Tour Builder, on every screen, for every option, Quick Help icons (an "i" inside an oval) provide detailed information about the option. In the screenshot below, the red arrows point to some of the Quick Help icons on the Popup Behavior screen.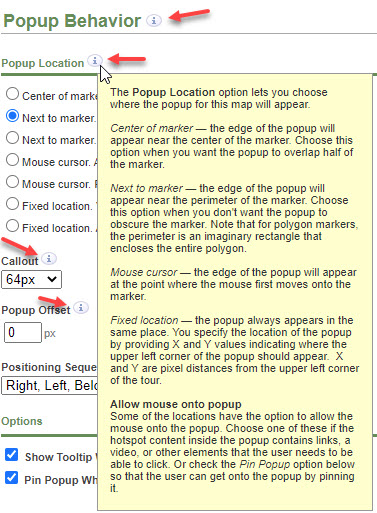 Tour Advisor
While viewing your interactive map in Tour Preview, the Tour Advisor offers helpful suggestions for ways to improve your tour. For example, the Tour Advisor lets you know that some of the hotspots you have added to your tour have not been placed on the map, or that some hotspots don't have images.

MapsAlive User Guide
Need More Help?
The online MapsAlive User Guide contains detailed information about creating interactive maps. It includes everything you need to know to get started with MapsAlive, a comprehensive reference to using the Tour Builder and MapsAlive features, and documentation for advanced features. And you can always contact us for additional assistance.
Private Tours

Interactive maps created with MapsAlive are automatically hosted at tour.mapsalive.com. Anyone who knows the tour's URL can see and use it. If your interactive map contains sensitive information, such as employee directories or sales territories, that you don't want the general public to see you can make a tour private. When you make a tour private it is accessible on your server, but not on the MapsAlive server.